Baked in small quantities just for you!
We're a licensed, home based bakery located in North San Jose. Our products are baked in small quantities by order, so you can enjoy them as fresh as possible. Although we specialize in Nordic goods, such as rye bread, cinnamon rolls, butter buns, and other traditional favorites, we also offer delicacies from other regions. Our weekly specials are announced on Facebook, and you can contact us for custom orders.

Traditional Finnish rye bread
The tradition of baking rye bread in Finland started more than 2000 years ago. Finns have always loved their rye bread. Not only does rye help in balancing sugar metabolism and have an extremely high fiber content, it also tastes delicious. For our authentic Finnish rye bread we use quality stone ground whole grain rye flour and other natural ingredients. Every single loaf is hand prepared with love and care, so you can have a taste of Finland in the heart of the Bay Area.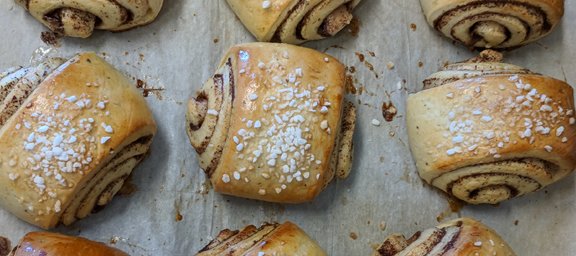 Nordic specialties
Lapland Bakery stands for honest, homemade baked goods with a Nordic touch. We offer a variety of items such as cinnamon rolls, other Nordic buns, and donuts with cloudberry jam, just to name a few. Have a closer look and read more about our Nordic specialties.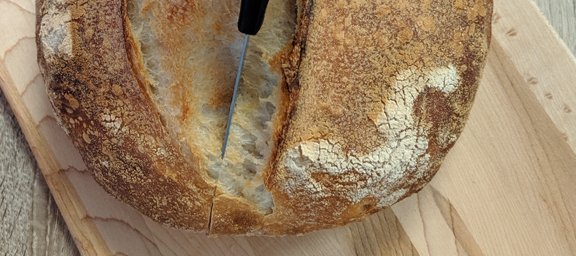 Sourdough bread
Although not a traditional Nordic bread, we decided to add sourdough bread to our menu, because who doesn't love sourdough in California? Our bread is baked with only a few ingredients, and without yeast. Crispy crust, fluffy and soft inside, and imagine receiving it when it's still warm!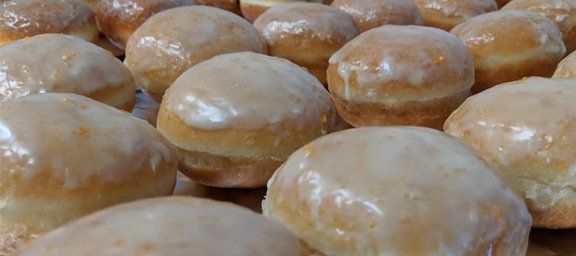 Polish donuts - Pączki
We offer delicious Polish donuts in the Bay Area based on a traditional recipe! We also have Finnish donuts with cloudberry filling! In Poland, donuts are eaten in fair quantities during the entire Carnival season, but especially on Fat Thursday, which in 2022 is on February 24th.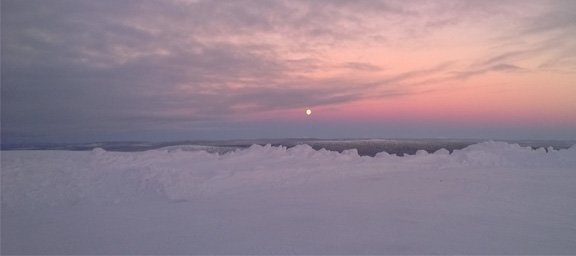 How to order?
You can read about our weekly specials on Facebook, and place an order by contacting us using our contact form or email. All our products are prepared by order and we offer delivery in the Bay Area, so get in touch today to start your order and arrange a delivery or a pick-up time!